EDIT: The announcement of the winners have been moved up to May 25th.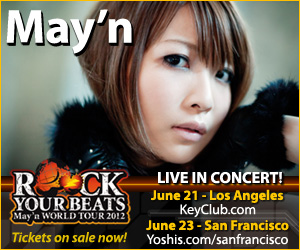 I have 4 pairs of tickets to give away. 2 pairs for each of the 2 venues that is currently scheduled in the US leg of May'n's World Tour (Rock Your Beats). One is at the Key Club in Los Angeles and the other is at Yoshi's in San Francisco.
Click at the banner to the right or in the forums for more info on the tour and anything related to May'n in the USA.
Rules:
1. You must be in California to enter.
2. To enter for the bay area show, you must live in Northern California (above the San Luis Obispo, Kern County and San Bernardino northern county lines.)
3. To enter for the Los Angeles area show, you must live in Southern California (below the San Luis Obispo, Kern County and San Bernardino northern county lines.)
4. To ensure that a current active member wins a ticket for each of the venue, you must be already signed up before this post and you must have above 100 posts by the date of the drawing.
5. Any registered member is eligible for the other pair of tickets (for each venue), so you can register one hour before the drawing and you are eligible. Anyone caught making duplicate accounts just to enter will be automatically banned. (Duplicate accounts are not allowed per TOU.)
6. Winners will be announced on May 25, 8pm PST.
7. Winners must provide Name, Email address, and Street Address thru PM within 48 hours of drawing, so make sure you check this thread on or soon after the 25th of May. Alternate names will be drawn just in case the winners fail to contact me within the time allotment. Name and email will be forwarded to May'n's concert promoters and by entering the contest, the winners agree on these terms.
8. Tickets are non-transferable. These are WILL-CALL tickets and you will be asked for ID at the show.
To enter just post your mailing zip code  on this thread.