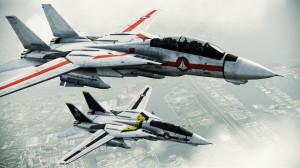 In what is hopefully only the first of many ways in which it celebrates the 30th Anniversary of Macross, Namco Bandai will release downloadable skins of the VF-1J and VF-1S for Ace Combat Assault Horizon on both PS3 and XBOX 360.
Unfortunately these will only be released in Japan and even the 'region free' PS3 region locks DLC (often it can be downloaded and paid for but won't actually work.)
Full details can be found at ADRIASANG.
It's funny how these things work – back in the day I remember thinking that Ace Combat 3: Electrosphere was quite possibly the best Macross game ever (with the caveat that its planes could actually transform). What do you guys think?