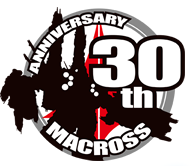 Just announced minutes ago via the Macross F fanclub newsletter (er…email)… the events that are to be held for Macross 30th Anniversary are:
(1) 'Miss Macross 30' contest.
(2) A Macross musical
(3) Macross 30th Anniversary Exhibition – MACROSS: THE DESIGN (to be held from April 26th at Shibuya Parco)
(4) 30th Anniversary Macross Exhibition ~ Valkyrie de sasotte! (to be held from April 28). – UPDATE – This will be held in Ikebukuro and will apparently feature a 1:1 scale VF-25 Valkyrie in Gerwalk mode.
Further details have just gone up in Japanese at the Macross 30 website.
Anyone going? Sound off in the forums!