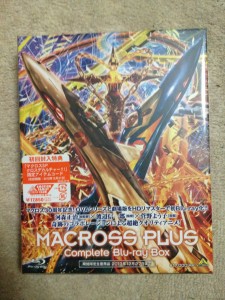 So, technically the official release date of Macross Plus on BD is not until tomorrow, but here's a sneak peek at some of the goodies on their way to you original roughnecks of Dalmatian High School who pre-ordered.
I have not had time to check everything out, but here's a brief overview:
Image quality: Incredible.  looks great on my HDTV, all the tiny text on the monitor screens at the test flight center is legible and the colours are vibrant and lines crisp.  Perfect.
Audio:  Great.  Although the first thing I checked was whether it had the alternate David Hayter English dub for Episode 4, and yes, it does.  So that's a bit of a downer.  For more details on that, please look in the link below.
There are lots of interesting additional materials, and if anyone remembers what I wrote about the phenomenal Macross 7 boxsets, you may recall that the "Archives" booklets included with those were somewhat lacking in terms of production history, and instead just focused on in-world details, such as character profiles and mecha stats, which I personally had little interest in.
This set, on the other hand, has a full 100 pages worth of interviews with the staff and write ups on rare (pre-)production elements, all of which sounds fascinating, but I haven't had time to read through it to see what secrets are awaiting revelation yet.
It also has a beautiful booklet of genga (production keyframe animation sketches) including lots of Itano Circus goodness.
Recommended for any, nay, every, Macross fan.
And last but not least…. Included in the package is the announcement that Orguss is coming to Blu-Ray this autumn!!  Get your Choco Parfait Monsters into position because we're gonna blow a hole in the Space-Time Continuum!!
Official site is here:
http://www.toei-video.co.jp/BD/orguss.html
… But it is still blank because, like I said, this set officially should be out tomorrow so expect this page to have more info in the next few hours.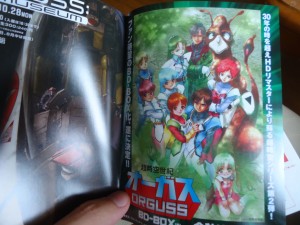 EDIT: Gallery added (Tochiro)