The gang is back together with special guests Matt Alt and Patrick Galbraith for a drunken cacophony of sushi shirts, the moepocalypse, Renato's Grandmother and the truth about Matt's relationship with Lord Graham.
Oh and there's something about Macross 7 and Frontier in there too. Sorta. I think.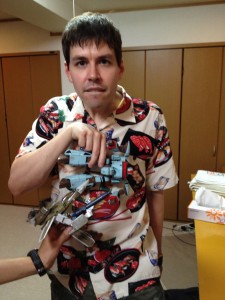 The chaos simply couldn't be contained, so I ended up splitting the cast in two:
PART 1:
Or, download PART 1 here. (Right-click, save as)
Don't miss an episode! Subscribe to us on iTunes!
Time stamps and more after the JUMP!
Part 1 – Time Stamps
00:00 – Has Macross changed? (Things start off fairly normal, until…)
00:28 – The MOEPOCALYPSE!
01:13 – Macross 7
While you're at it, Patrick's books can be found here and here.
Mats can be found here, here and here.
 Discuss Macross 7, Renato's Grandmother and what you like doing with Minmay dolls in the forums!