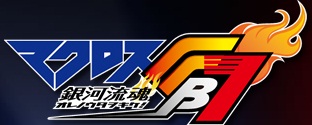 The Official Website for the upcoming Macross FB 7 has just opened.
It contains little in the way of new information at this point but keep an eye on it for future updates!
One thing that IS known now however is that it hits cinemas in Japan on October 20 with ticket presales starting August 10!
UPDATE: Yahoo news lists FB7 as being a 90 minute feature (thanks to antibiotictab for the additional info!). Confirmed characters include:
Ozma, Bobby, Sheryl, Ranka, Luka, Michel, Klan Klan, & Canaria.
Characters from Macross 7 have yet to be confirmed.
The feature will be directed by Tetsuro Amino. Valkyrie designs are credited to Shoji Kawamori.
UPDATE 2: Story from Anime News Network.