TMBounty_Hunter posted to a link  that describes the release of the original 36 episodes of SDF:Macross on bluray.
Check out this sexy Tenjin Box art!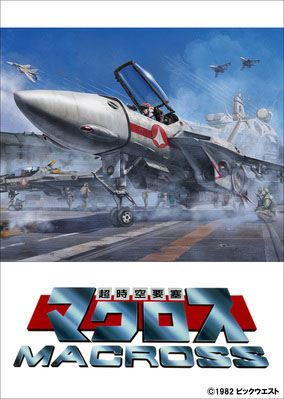 This box set will come out in two different versions, standard and complete edition (limited).
The complete edition will come with these special features:
All 36 episodes
a booklet (with staff interviews, pre-production designs from when the creators were working on early series concepts called "Genocidas" and "Megaload/Megaroad")
a box illustrated by character designer Haruhiko Mikimoto
inner jacket covers illustrated by mechanical artist Hidetaka Tenjin
a music video collection (edited from pachinko and pachi-slo machine footage)
the 30th anniversary special that ran on the Family Gekijō channel
promotional videos from the Macross PlayStation 2 game
the "Macross Special" version of the first two episodes that aired in the original premiere
the original broadcast version of episode 11
the credit-less opening and ending animation sequences
the opening and ending sequences from "Macross Special"
the super-deformed version of the opening sequence
commercials of the time
additional materials
Replicas of the 1983 tome Macross Perfect Memory, the scenario script for the first episode, storyboards (for the opening sequence, episode 1, and episode 27), and a collection of illustrations (from DVDs, LDs, plastic models packages, and elsewhere)
Scheduled to ship May 25.