As previously reported HERE, Yamato, the company that brought fans the greatest Macross toys ever is undergoing some changes and forthcoming Macross-licensed items will now be sold under the Arcadia brand.
The evolution of Yamato's Macross products have always been somewhat synchronous with the growth of Macrossworld as a fansite, seeing as they both began at around the same time, making this transition all the more poignant.
This sign of the changing times gives us  an opportunity to look backand reminisce all the elation and/or frustration that Yamato's products have given us over their 13-year journey exceeding time and space.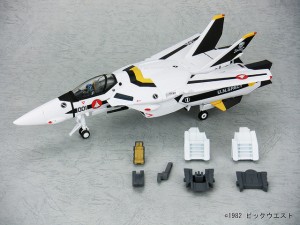 Thus MW member VF5SS and I (Renato from the Macross Speaker Podcast) got together for a talk session where we powered through Yamato's entire back-catalogue, with a smattering of insights on the company philosophy and the changing nature of the market taken from an interview I personally conducted with Yamato Toys staff in June 2012.
The host page on CollectionDX, including a long list of links to every Yamato Valkyrie review on the site is here:
Veef_Show_Episode_51:_Retrospective_Yamato_Toys
Direct download links are here:
And discussion threads are HERE (Movies and Series Forum) and HERE (Toys Forum)