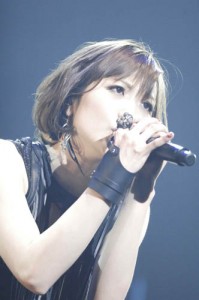 Back in February, MW resident May'n fans Vanpang and VF25-F traveled all the way to Japan to see the Macross Frontier Diva herself live on stage.
What follows is their story.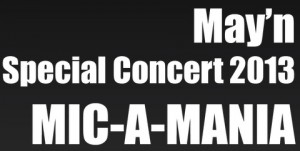 A Malaysian fan at MIC-A-MANIA concert, Budokan
The four of us, Macross / May'n fans, VF25-F, Darren WK, Pamela and vanpang decided to make a trip to Japan late in February for some sightseeing and to attend May'n's Mic-A-Mania concert on 2nd March 2013.
After much difficulties in trying to obtain tickets to the concert (thanks to all parties who tried to lend a helping hand) we finally managed to get them at a general sale on the 28th, just 2 days before the actual concert. What a relief it was when we could finally achieve our objective.
On the day itself, 2nd March 2013, we reached Budokan at around 4.00pm (advised by the lady at the ticket counter). Already the fans had gather and making their way to their respective gates. Many more lined up to get their hands on the merchandise, the line was really long and slow as the fans scanned the items to decide which to buy. By the time we got to our seats which was in the highest 2nd last block, 2nd tier of the West wing, it was around 5.30pm. Probably everyone from our block and the last block including the ones across to the East had bought the tickets through the General sale. From our point of view, there were some odd single empty seats in almost every block and a row of 8 empty seats right across on the East wing. The other block which was only half full was (immediately I recognized after watching all her BIG concerts) the MEDIA block which is located directly opposite of the stage.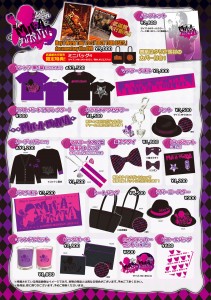 The stage was rectangle (2 tier) and in the middle part of the 2nd tier was covered by a big rectangle piece of black cloth, a flight of steps comes running down to the Arena area. There were two tall pole like structure on each side of the black box which has like shiny beads dangling from the top. In the middle of the arena area was a hexagonal stage, surrounded by barriers. Clearly something will happen here at some point of the concert.
By 6.13pm the whole place was full, fans who had came late and those outside lining up for the merchandise were all in. As far as we can see, it's a full house. Boy, she can really pack them! Suddenly, the whole place went dark! The fans got excited and soon the darkness were filled with glowing light sticks.
Then a spot light shone down where, for a minute ago was an empty space, but now stood the very person that everyone was waiting for! The whole place erupted with excitement, and immediately died down to a whisper as the music began to play. First up was 'Ao Zora' (ED from BTOOOOOM!).
Ok, after this point, things are a little blurry(sorry, but I was floating on cloud 9), so it may not be accurate when you compare this with the Blu-ray/DVD of this concert.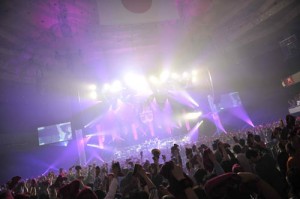 Once she had finished the first song, May'n turned and the black curtains on the rectangle went up. Revealing the 4 piece band, a 20 piece string orchestra and an unknown number of choir standing shoulder to shoulder in the back of the stage. There was even a giant chandelier in the middle. She stood further up the stage and welcomed everyone.
The sound system was fantastic!, it's as if you're hearing every note delivered to your ears through an ear piece and there was no echo except when the band played a little too loud. There was however one instance, where there was something wrong with the mike, its as if the mike went off and on when she was singing 'Hero'-'my H ___roooo!'
By now weve noticed that whenever the song is slow, the light sticks would turn BLUE and turn YELLOW when the song is fast. The choir and string section would go off and come back between songs and at times I've didnt even noticed when they had left.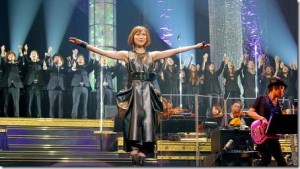 Just before she had to change her clothes, she stood between the string section and delivered 'Moshimo Kimi Ga Negau No Nara' (If you wished for it..). There was a brief break and the crowd was shouting her name and later 'Bucho'. A few moments later she came back with 'Northern Cross' which she delivered from the top of the stage, unfortunately for us and some of the audience were blocked by the audio equipment suspended in the air. I could only see her hands making all the gestures. But for her fans, its already ingrained in their memory, all the movements for this song.
Luckily, for the next song, she walked down back to the lower stage, but still I suspect some audience sitting further left of us is still blocked by the audio equipment. She then introduces her new and only song for this concert (lyrics by May'n) and got everyone to practice shouting 'Rock Your Beats!'. Later, its time for the audience to get into the act. Everyone took out their towel and danced to the 'Abc' and the 'XYZ'. Another round of towel spinning with 'Dolce' (it was fun and funny to watch). These are some of the things that make her concert fun. The audience becomes part of the concert and that gives you a sense of belonging.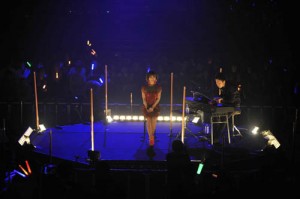 All of a sudden, she sang something familiar but at the same time you can't place the name of the song. It was very grand and I was very sure it was from the 2nd movie 'Sayonara no Tsubasa' and then it ended, a pause and then the everlasting 'Lion' came on. (Upon my return to my country, Ive checked up 'Sayonara no Tsubasa' but it wasn't. It was 'Nyan nyan final attack, frontier greatest hits!' she used the opening of the song and stopped just before Ranka (Megumi)'s part.) Nice.
Time for another break. Everyone was shouting 'Encore! Encore!' This time the break was slightly longer as you can see the staff setting up something on the hexagonal stage in the middle of the arena and the arena crowd began to turn their attention to it.. Finally it was ready and 'Bucho' walked in from the East side of the arena and was wearing a stunning red dress which looked like a Chinese cheongsam high slits on both sides. She sat down in the middle and the 4 piece band was surrounding her. She sang 2 songs (Koi and Aenai Toki) In my opinion the mini stage was too small as she has to see where she was walking because of the cables going up the stage when she did the acoustic version of 'Kimi Shinitamou Koto Nakare' (Thou shall not die) Can't do Macross speed songs here.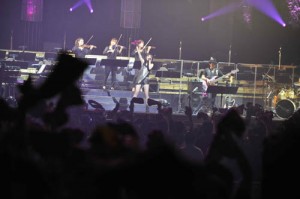 She goes off again and the crowd called for another 'Encore!' A short while later, they got their answer! 'Bucho' came back dressed in an elegant 'beige' evening gown! The full compliment of the orchestra is back together with the choir. The song is 'Love, like the falling stars' . Everyone joined in singing chorus part. As usual, each tier would get their chance to be heard, the males vocals, the females and not to forget, the MEDIA's! which everyone erupted in laughter.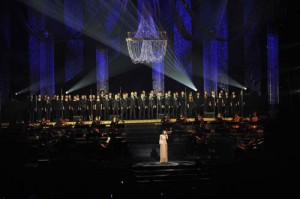 This song has an epic feel to it, I suppose it is befitting for this be the final song for an enchanting evening. Though we wished that it would go on just a little bit longer but we know at some point it would have to end. Two hours plus past but it felt like a mere 45 minutes. It was time to say farewell, and May'n introduced the orchestra (once again) and thank them. Next up was her regular 4 piece band plus the 'Manipulator'; whom does their own antics and finally 'Bucho' herself, which in turn, she felt a little shy when her musicians got on one knee and present her. Everyone then held their hands together for one last bow and May'n shouted at the top her voice (without the mike)
'Arigato!!!'
This is probably where the Blu-ray/DVD version will cut off and go on to show the next chapter which is the 'Making of…..' (from seeing all the previous ones) So for those that want the official ending, stop reading right here. : )
THE END
Your right, I'm being silly, after all you've made it all the way here already. So here's what you won't get to see.
Everyone left the stage except May'n who stayed back to thank her fans. She tried to run (as she always did) and suddendly remembered she's wearing this outfit and so quickly tip-toe to the West wing first. As she got closer to the 1st tier, she disappeared from our view. For ahwhile, we thought she had forgotten about us and suddenly she backed up to where she can see the 2nd tier and waved to everyone. It took sometime to go around as she honestly tried to look at all her fans faces and thank them for coming. Finally its has ended and as she walked to the exit on the west wing, one last desperate call by her fans from the 1st tier caught her attention and she waved back with a big smile. A really thoughtful gesture indeed.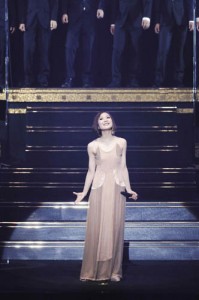 CONCLUSION
If this was an anime, then this is the episode where you have a flashback of what had happened since episode 1. That explains why there was no new album, apparently in the music industry, every eight year is a flashback episode (heard that the same goes for other artists). Happy, also to report that her raspy/coarse voice has gone (which was with her throughout the entire 2012 though slight trace of it when she gets excited while talking) Though this unexpected chance to attend the concert has stretched our budget somewhat, but it left us with an even bigger sense of satisfaction.
Song list
1. Ao zora 2. Jewels 3. Welcome to My Fanclubs Night (Styles ver.) 4. Scarlet Ballet
5. Giant Step 6. Anemone 7. Hero 8. Brain Diver 9. Rock Your Beats
10. Forbidden Elixir 11. If You Wished For It.
Break
12. Northern Cross 13. Iteza Gogo Kuji Dont Be Late 14. XYZ 15. Dolce
16. Paranoia 17. Lion 18. My Teen, My Tears 19. Mr Super Future Star
20. Chase the World
Encore
21. Koi 22. Aenai Toki 23. Kimi Shinitamou Koto Nakare
Encore
24. Love, Like The Falling Stars
Thanks to Vanpang for such a comprehensive report!
Comments? Questions? Want to just sing along? Sound off in the FORUMS!