Just when Macross fans thought their wallets were safe, a new Macross Frontier Bluray Disc boxset has been announced. While Macross Frontier has already been released on BD previously, this new set will feature a new digital remaster that the trailer claims will reduce banding, resulting in a sharper image, a mountain of extras, and will be in print for a limited period of 1 year. No word on English subtitles at this stage.
Details and pre-order information follow the jump.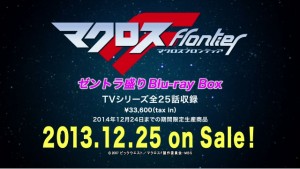 Price: 33,800 yen
Release: Dec 25, 2013~Dec.24, 2014
Contents: 25 digitally remastered episodes + Extras (5 BD discs)
Extras (First Pressing):
-All-new drama CD
-New, high-quality booklet (100 pages)
-Special Illustration booklet (72 pages)
-OP storyboard booklet.
-4 music videos using footage from Pachinko/Pachislot footage.
-5 music clips from Joysound karaoke.
-Macross Fufonia shorts (20 episodes + 3 new episodes).
-All That VF footage (2 clips)
-New special program featuring staff and cast.
-Seikan hikou dance along clip.
-Promotional videos for Banpresto's ichiban kuji and prize figures.
-Pre-broadcast promotional footage.
-Commercial collection.
-Clean OP & ED
-Newly recorded audio commentaries.
-Re-recorded audio commentaries from previous BD/DVD release (9 eps)
-Deculture and Yack Deculture versions of Episode 1
-Box art by Risa Ebata. Cover art by Risa Ebata and Shoji Kawamori.
Preorders are already open at Amazon Japan.
Sound off in the FORUMS!