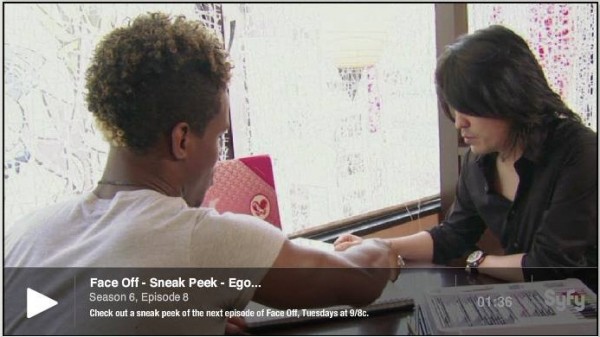 'FACE OFF', a special effects/make up competition/reality show on SYFY, has released a press release announcing that in the latest episode the remaining participants travel to Tokyo where they meet, among other special guests, famed Macross Artist Hidetaka Tenjin!
The episode will air on SYFY  on Tuesday, March 4 at 9 PM ET/PT and will mark Tenjin-san's first ever US TV appearance.
A teaser for the episode can be found on the official website.
From the press release:
'In the episode, "Ego Trip Abroad," the artists embark on the trip of a lifetime where they'll gather inspiration for two extreme challenges celebrating the fascinating culture of Japan. After a day of exploration, they arrive at an ancient temple where host McKenzie Westmore and two-time Academy Award-nominated makeup artist Kazuhiro Tsuji are waiting to deliver their next Foundation Challenge – to create an original take on a traditional Japanese Oni, which are ogre-like Japanese demons. The next day, the artists venture off into the heart of Akihabara, Tokyo's tech district and ground zero for anime, where they meet genius anime artist Hidetaka Tenjin. They learn their Spotlight Challenge will be to create a character based on one of Japan's most famous exports, anime, with a surprise personal twist thrown into the mix.'