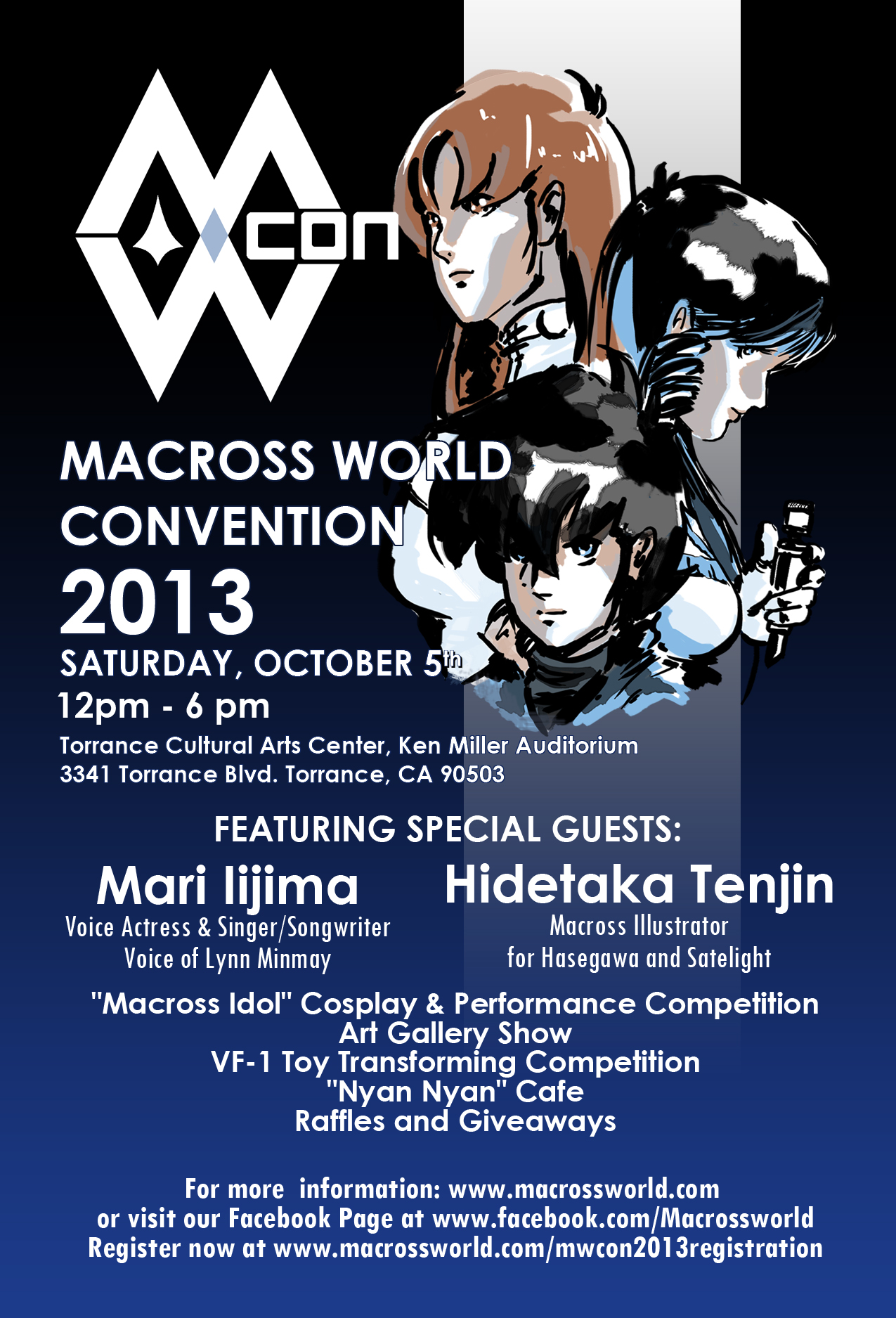 Los Angeles, CA (September 12th, 2013) – MacrossWorld Con 2013 announces an all-new competition, "Macross Idol"! This cosplay and talent contest welcomes all performers and cosplayers inspired by the popular anime franchise to the Torrance Cultural Arts Center on Saturday, October 5th!
This exciting event offers entrants different ways to compete! Cosplay, singing, and other performances are encouraged. Prizes include Macross figures and other merchandise, and the winner will be crowned "Miss/Mister Macross"!
To register, please email macrossidol@gmail.com with:
your full legal name

age

phone number

email address

description of your cosplay and/or performance
There are a limited number of slots available, so be sure to register early! Participants will be required to sign a general release and waiver.
"Macross Idol" joins other scheduled activities, including a Bandai 1/55 VF-1 "Transformation Contest", live art drawing competition, art gallery show, a "Nyan Nyan" Cafe, a concert and autograph session with voice actress and singer-songwriter Mari Iijima—the voice of Lynn Minmay in the original Macross TV series and motion picture, and a panel and autograph session with Hidetaka Tenjin, known for his stunning box art for Macross and other models, and for his work on the publications Macross Chronicle and Space Battleship Yamato Fact File.
Follow this link to find out more about the Macross Idol Contest: https://www.macrossworld.com/mwcon-idol-contest/
MacrossWorld Con 2013 is coming to the Ken Miller Auditorium at the Torrance Cultural Arts Center on Saturday, October 5th from 12:00 – 6:00 PM. Register now at https://www.macrossworld.com/mwcon2013registration
About MacrossWorld
MacrossWorld is the leading source for Macross news, modeling and hobby tips, and all things related to the ground-breaking anime franchise. Since 1999, the MacrossWorld forums have been the destination for fans to connect and build community around their shared interest and enthusiasm for the series that changed anime fandom worldwide.
Keep up with the latest Macross news at https://www.macrossworld.com or http://www.facebook.com/Macrossworld.