The Oshare Macross Exhibit will be opening in Kyoto for the first time ever from March 23rd to March 31st. This means two things: (1)Some sort of signing event (in this case, a Hidetaka Tenjin autograph session for the first 100 customers who spend 3000yen or more on opening day) and (2) NEW MERCHANDISE!
One of the most interesting new items is a new 3D poster based on a piece by Hidetaka Tenjin. While this piece isn't new, it has apparently undergone some 'retouches' for this latest version. The 3D poster will cost 2100yen and will be sold exclusively at the event (for now)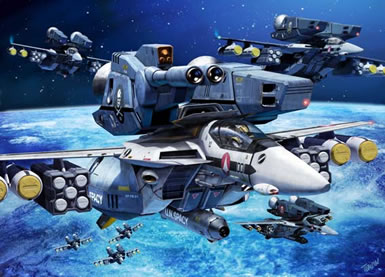 Several new Risa Ebata illustrations will be featured on other merchandise, including art-cards, ipad cases, carry-bags and…cushions.
Joysound Ikebukuro has started a new Macross-themed menu to go with its Macross-themed karaoke rooms. Included on the menu are such delicacies as'Ranka Lee Udon', 'BasaRamen' , 'Fire Bomber Pizza', 'Pineapple Cake' and 'Roy Fokker Special Parfait.'
Joysound (not just Ikebukuro) has also started a Macross x Joysound Macross Crossover Campaign. Participants who register and sing at least 1 of 8 selected Macross songs will be able to then log in to the official website to enter a draw for one of 3 prizes.
5 people will win two tickets to the Macross Crossover 30 Concert, 5 people will ein a copy of the Macross 30 game for the PS3, and 5 people will win a copy of the upcoming FB7 bluray.