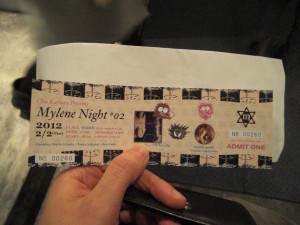 Yay for almost-two-week-old news.
On February 2nd, 2012, Mylene Jenius celebrated her -19th (that's MINUS nineteenth) birthday, and to celebrate, psychedelic goth rockin' lady Chie Kajiura got together with her band and some other friends to perform in a second annual "Mylene Night" concert, consisting of INCREDIBLE renditions of Macross songs old and new.
Save, Tochiro and I scored some tickets and mosey'd on down to check it out.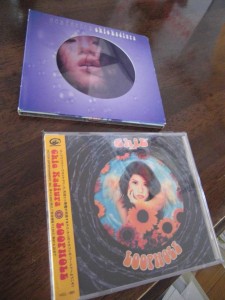 I took these along on the off-chance that there may be an autograph opportunity, but no such luck.
Chie, of course, is the original singing voice, writer and composer for Mylene's songs in everyone's (un)disputed favourite musical mayhem masterpiece Macross 7.  Last year, she and Tomo Sakurai, Mylene's voice actress, shared the stage.  This year, we were treated to a pre-recorded ("well of course it's pre-recorded, when the hell else are you gonna record it, afterwards??  That doesn't really work, does it?" — George Carlin RIP) video of Chie and Tomo chatting with Aya (Sheryl Nome) Endo about recording songs, cosplay, etc.
Joining Chie on stage for a few numbers was special guest Yoshiki "Basara" Fukuyama, and the most fun aspect of this particular concert for me was watching these two play off each other during the talky intervals between songs, while Fukuyama tunes his guitar.  The pair are almost like a Japanese "manzai" comedy duo… except actually funny (yeah, I know, cheap shot, I'M NOT SORRY!).
I'm sure Tochiro will provide the "full orthodox" write-up for the event, but for now enjoy a couple of shots I took and check out the blog entry for the concert on Chie's site here.
Below is the playlist.  Chie's rendition of DYRL blew EVERYBODY away.  Also before the concert began, the Japanese guy behind me was saying that he expected Chie to do a version of Diamond Crevasse.  To this, I simply responded, "Well, why not go all out and do Millia's Lullaby?".  After laughing out loud, he called me a "MANIAKKU", as in, "maniac", which is even worse than "otaku", if you can believe.  But guess what — she in fact did sing Diamond Crevasse and I turned and said to him, "dude, you totally called it!"
…だけどベイビー / Dakedo Baby
PLASTICS
Fall
Sweet Fantasy
Ready Go
君に届け / Reaching for You
マイビューテイフルプレイス / My Beautiful Place
愛おぼえていますか / Do You Remember Love
ダイアモンド クレバス / Diamond Crevasse
映像 / Video
PILLOW DREAM
REMEMBER 16
Waiting for you
SEVENTH MOON
Burning Fire!
Go(自由な唄)/ Go (Song of Freedom)
MY FRIENDS
フレンズ時空を超えて/ Friends ~ Across the Dimensions
What I love about Chie's concerts is that no matter how many times you see her, she never does the same arrangement twice for any single song.  She is always mixing stuff around, and so all of these songs felt fresh and new.
There is another Mylene Night planned for next year, same date, but coming up soon on April 30th is the Osaka Mylene Night, so if anyone is in that area I STRONGLY suggest you check it out.   You WON'T be disappointed — and the crowd is cool, too.  Details here.
If/when Tochiro makes one of his legendary report threads about this particular concert, however, I will put the link in this post, in the meantime here is the old thread for last year's Mylene Night.  Discuss!
Also, check out some of the cool merch on sale which I couldn't afford!