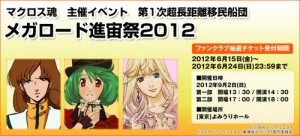 While some sort of event has been alluded to in recent months, the first details of the Megaroad launch ceremony were announced via the Macross Fanclub yesterday.
Titled 'First Long-Distance Immigration Fleet, Megaroad Launch Ceremony 2012', the event will be held on September 2nd in two parts.
Currently confirmed guests (with more to be announced) include Megaroad Captain Mika Doi (Misa Hayase), as well as Megumi Nakajima (Ranka Lee) and Aya Endo (Sheryl Nome).
Standard tickets are 4500yen, with special tickets (which come with some sort of as of yet unannounced merchandise) costing 5800 yen. The event is limited to Macross fanclub members only, although even then ticket sales will be decided by a draw, meaning they will be more difficult to get that a bandai valk preorder.
Discuss here.