First picked up on by forum user Peter, and later confirmed by forum user Antibiotictab, MACROSS THE FIRST will be returning in digital format.
Kadokawa's newly launched digital manga service COMIC WALKER will host the manga by famed Macross character designer Haruhiko Mikimoto, from late April. The Japanese version of the digital service posted late last night that it would run 'the previously unknown Episode 0 , greatly expanded and with an increased number of colour insert pages. While it has yet to be announced whether the Comic Walker version will start from where the print version ended or rerun the entire series, the fact that there is an Episode 0 seems to indicate that the manga will be rerun from scratch, meaning it could still be a few months until the digital version catches up to where the original print version left off.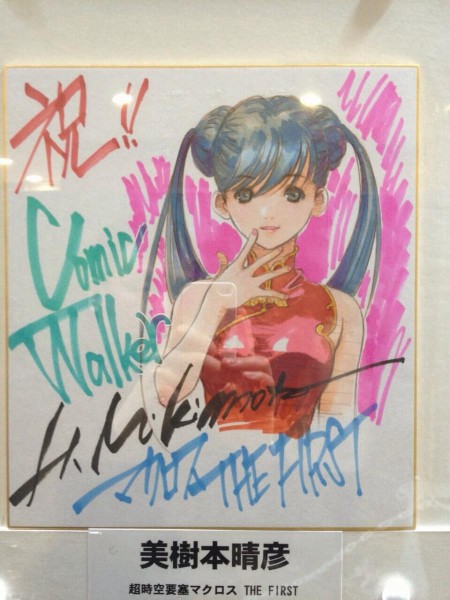 COMIC WALKER is Kadokawa's new digital manga service that provides content internationally in Japanese, English and Chinese for free , although sometitles do not appear to be available across all regions in all three languages.
While Kadokawa has not confirmed whether Macross The First will be available in English, when asked at Anime Japan 2014 on Saturday (01/22), they did say that while in principle 'most' titles would be available internationally, there would be exceptions. Given that, at this point in time, even the announcement of MACROSS THE FIRST only appears in the Japanese version of the app, it is seems unlikely that it will receive an international/English release. Setting iOS devices language settings to Japanese may get around this issue, and we will try to confirm this when the title resumes publication in late April.
For those concerned about a physical release, while Kadokawa has yet to make an official announcement, it should be noted that other titles on the COMIC WALKER (Japanese) service such as 'Yamato 2199' have continued to receive physical tankobon publications as sufficient content has become available.
(Thanks to Peter for the Mikimoto pic! Thanks to Egan Loo for translation clarifications!)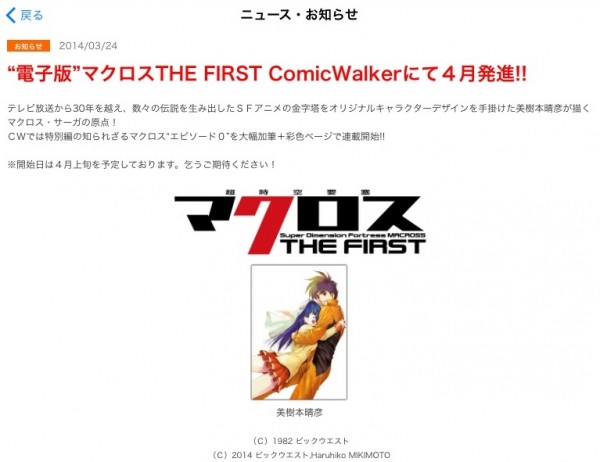 EDIT: ANN has also posted a story regarding the launch of the Comic Walker service.