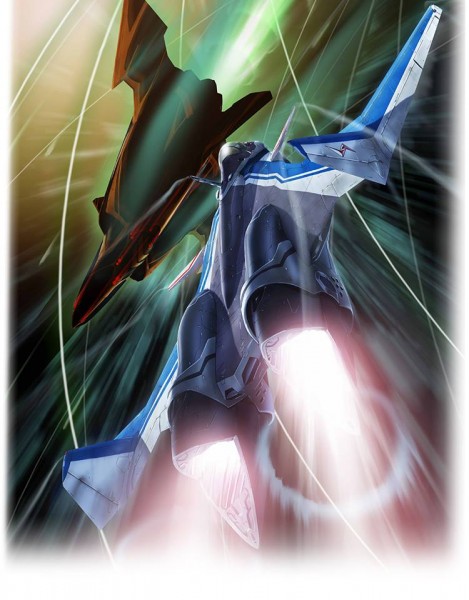 After initial images leaked last night, AnimeAnime and ANN are reporting that the Logo, title and first key visual image for MACROSS DELTA have been revealed in the lead-up to this weekends All Japan Model and Hobby Show.
With the title confirmed to be 'Macross Delta', the key visual's tagline is "Shoot (it) down.'
Interestingly, the logo also reveals some sort of planet. Could the new series be set somewhere other than a colonization fleet?

More details are expected at a 'Macross Modellers' talkshow event at the All Japan Model and Hobby Show tomorrow.
This will be followed by a "'Chō Jikū'" Seisaku Happyōkai" ("The Super Dimension" Production Unveiling), live-streamed event on NinoNico on October 29 which will reveal character designs, main staff on the production, and the winner of the recent idol auditions.
To commemorate the upcoming new series, 5 previous Macross movies are getting a budget re-release on Bluray on December 24. Macross Do You Remember Love, Macross Plus Movie Edition, Macross 7 The Galaxy is Calling Me, Macross Frontier The False Songstress & Macross Frontier The Wings of Farewell will all be rereleased at 5000yen each. There is no information regarding English language options on any of these discs at this time.
(Thanks to Egan Loo and Adrian Lozano)