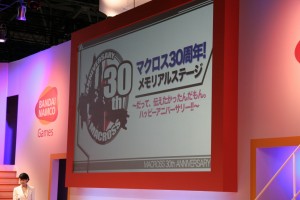 Bandai Namco Games held a 30th Anniversary Macross stage show on Sat. Sept. 22 during the first public day of Tokyo Game Show 2012.
Titled 'Macross 30th Anniversary! Memorial Stage 'Because I Want to Tell You. Happy Anniversary!!' the stage show ran for 45 minutes, the first half of which was streamed on Bandai Namco's website. The second half was a mini live performance and was not streamed.
The stage show featured three guests – Megumi Nakajima (Ranka Lee), Katsuyuki Konishi (Ozuma Lee) and (later on), Haruka Chigusa (winner of the 'Singer Wing' of Miss Macross 30 Contest).
The biggest announcement was 'Macross 30' (working title) a new Macross game due out in 2013. Platform, genre, and other details have yet to be announced.
The first trailer for 'Macross FB7' was also shown publicly for the first time ever (including the new FireBomber song 'Virgin Story.')
Also shown was a video message with messages from Yuichi Nakamura (Alto Saotome), Sakurai Tomo (Mylene Jenius), Nobutoshi Canna (Nekki Basara) and Hayami Sho (Max Jenius – looking stylish as the captain always should).
During the second half of the show, Megumi took to the stage for a small, 2-song performance: Houkago Overflow and Niji iro kumakuma (both from Macross Frontier: The Wings of Farewell). She was in great form – she really has the Ranka kumakuma dance memorized perfectly now. And of course, being in the front row meant that I was literally less than 2-3 meters away 🙂
Haruka sang her first Macross song live for the first time ever. The song is called 'Planet Cradle' and can be will feature in the upcoming 'Macross 30' video game (it can be heard in the trailer above).
Most of the following pictures are from Dengeki Online: