Stop the presses — it's the BIG ONE!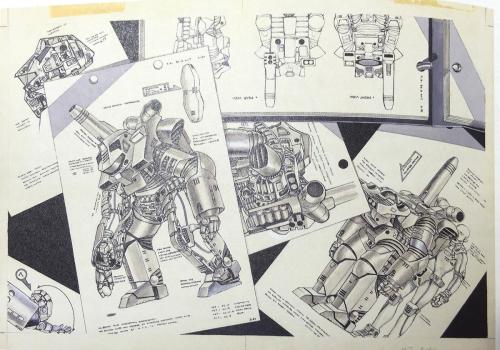 The City of Yokosuka will hold a Kazutaka Miyatake exhibition from next month — on an actual BATTLESHIP.
Kazutaka Miyatake is a living legend. He, along with Kunio Okawara (who incidentally currently has his own exhibition running at the Ueno  Royal Museum until the end of September), practically created the "mechanic designer" position in the animation industry.
He is famous for having worked on the Powered Suit design for the Japanese editions of Robert Heinlein's Starship Troopers — immensely influential in the history of Japanese animation as it informed every robot design in anime thereafter including Mobile Suit Gundam.  He is renowned for his design work on Space Cruiser Yamato, Super Dimension Century Orguss, Aura Battler Dunbine and of course, pretty much every Macross series: SDF, DYRL, Seven, Dynamite, Zero, Frontier, and most of the games (except Macross II 😛 ).
As bonus trivia, his credit in Macross: Do You Remember Love was "Production Design" — in other words, he created the entire world of the theatrical Macross movie from scratch, a feat that traverses the boundaries of "mechanic design".
A talk show will be held on the 24th of October with guests Miyatake-sensei and fellow Studio Nue member, the legendary SF illustrator Naoyuki Kato!
The Kazutaka Miyatake Gengaten will be held from October 24th to November 23rd at the HIJMS Memorial Battleship "Mikasa".
Info about the Mikasa in English here:
http://www.kinenkan-mikasa.or.jp/en/build_of_mikasa.html
Info on the event in Japanese here:
http://www.city.yokosuka.kanagawa.jp/4450/nagekomi/20150911.html