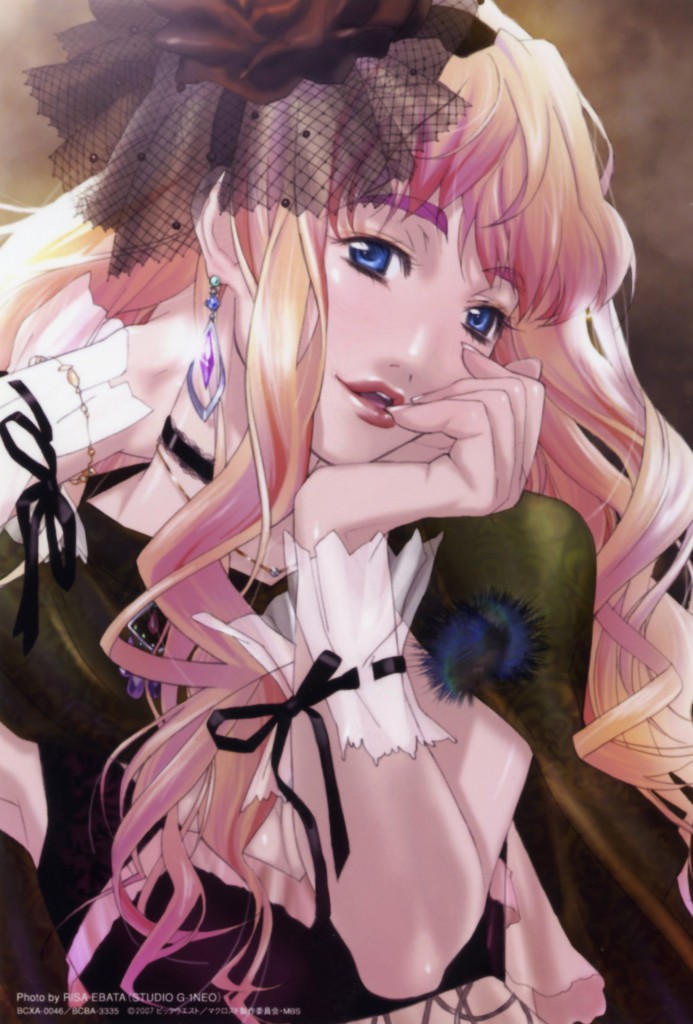 Almost 13,000 fans in Japan voted for the top Macross songs of all time and at the top of the list was Sheryl Nome's "Diamond Crevasse" as sung by May'n. In fact the top 10 of the list was dominated by the Galactic Fairy Songstress. The only other song to break the top ten with another singer is "Lion". Even then that number is a duet between Ranka Lee (Megumi Nakajima) and Sheryl Nome. Macross Frontier tunes take up half of the list of 43 songs. The streak is broken at lucky number 13 with the song "Do You Remember Love?" as sung by Mari Iijima as Lynn Minmay. Fire Bomber chimes in at number fourteen with "Totsugeki Love Heart".
What's your top Macross songs of all time?
Here's the rest of the list.
#1 Diamond Crevasse (Sheryl Nome starring May'n) – 754 votes
#2 
Northern Cross (Sheryl Nome starring May'n) – 

700 votes
#3 Sagittarius ☆ Don't be late afternoon nine o'clock (Sheryl Nome starring May'n) – 

652 votes
# 4 
Universal Bunny (Sheryl Nome starring May'n) – 

588 votes
# 5 
Obelisk (Sheryl Nome starring May'n) – 

561votes
# 6 
Infinity (Sheryl Nome starring May'n) – 

534 votes
# 7 
Fairy (Sheryl Nome starring May'n) – 

530 votes
# 8 
Forbidden elixir (Sheryl Nome starring May'n) – 

517 votes
# 9 
What 'bout my star? (Sheryl Nome starring May'n) – 

516 votes
# 11 

Welcome To My FanClub's Night! 

(Sheryl Nome starring May'n) – 

485 votes
# 12 
Pink Monsoon (Sheryl Nome starring May'n) – 

472 votes
# 13 
Do You Remember Love (Lynn Minmay) – 

458 votes
# 14 
Totsugeki Love Heart (FIRE BOMBER) – 

457 votes
# 15 
Sayonara no Tsubasa ~ the end of triangle (Sheryl Nome / Ranka Lee) – 

437 votes
# 16 
Triangler (Maaya Sakamoto) – 

399 votes
# 17 
PLANET DANCE (FIRE BOMBER) – 

381 votes
# 18 
INFORMATION HIGH (Sharon Apple) – 

334 votes
# 19 
TRY AGAIN (FIRE BOMBER) – 

331 votes
# 20 
DYNAMITE EXPLOSION (FIRE BOMBER) – 

326 votes
# 21 
SEVENTH MOON (Fire Bomber) – 

325 votes
# 22 
My Boyfriend is a Pilot Part1 (Lynn Minmay) – 

321 votes
# 23 Small Hakuryu (Lynn Minmay) – 263 votes
# 24 
Interstellar flight (Ranka Lee) – 

209 votes
# 25 
Flow over after school (Ranka Lee) – 

167 votes
# 26 
Angel's Paint (Lynn Minmay) – 

162 votes
# 27 
Hoshikira (Ranka Lee) – 

160 votes
# 28 
MY FRIENDS (Fire Bomber featuring MYLENE JENIUS) – 

156 votes
# 29 
Dog Fighter (BGM Version Macross TV) – 

150 votes
# 30 
The future is there because (Furasuchakaya) – 

145 votes
# 31 
Macross (Makoto Fujiwara) – 

144 votes
# 31 
Runner (Makoto Fujiwara) – 

144 votes
# 33 
Fate's Arrow – the fate of the arrow (Provisions) (BGM Version Macross TV) – 

139 votes
# 34 
Assault (BGM Version Macross TV) – 

138 votes
# 35 
Anatano oto (Ranka Lee) – 

88 votes
 Aimo (Ranka Lee) – 

66 votes
# 37 
Do You Remember Love? (Ranka Lee) – 

63 votes
# 38 
Yeah (Ranka Lee) – 

62 votes
# 39 
Kumakuma rainbow colors (Ranka Lee) – 

53 votes
# 40 
Ao ether (Ranka Lee) – 

51 votes
# 41 
CM song "Nyan Taipei Super Dimension" (Ranka Lee) – 

50 votes
# 42 
Sailor (Sheryl Nome starring May'n) – 

7 votes