Sorry to disrupt the flow of Wonder Festival kit news, but yet more 30th Anniversary news has just been announced!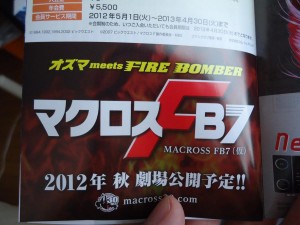 (1) BOMBAAAA!!  Macross FB7
For those who missed it, Renato discovered some information on the previously reported Ozma Meets Fire Bomber project in the DYRL BD boxset – Macross FB7 is coming to cinemas across Japan this Fall, meaning its more than likely a new one-shot OVA. Will we get to see a young Ozma back in his Fire Bomber fan years? Or an aging Basara, returned from his wanderings to see what Mylene looks like now that she's legal? More news as it becomes available!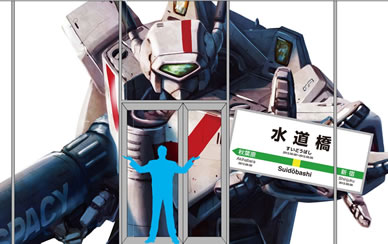 (2) My my, what a big Valkyrie you have!
The Official Shop of the Tokyo Anime Center will be getting a facelift from August 6 when it covers its windows with a giant  VF-1J decal . The store has long been a focal point for Macross related merchandise, having been temporarily transformed into an official Macross Shop back in 2010, and still has large Sheryl and Ranka decals on its windows to this day despite not having that much in the way of merchandise anymore.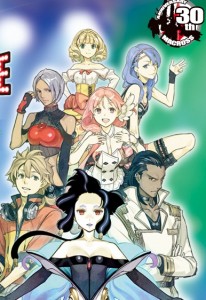 (3) Macross: The MUSICULTURE – key visual unveiled!
The official website for Macross: The MUSICULTURE has unveiled the first key visual for the upcoming musical which features many of the characters whose actors/actresses were announced 2 weeks ago. For some reason it looks like a young Rock Howard from Mark of the Wolves made it in there…..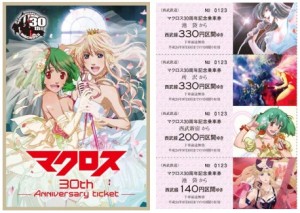 (4)Commemorative Train Tickets
Seibu Railway has commissioned set of 4 commemorative train tickets as well as a special booklet. These will go on sale on August 10 and will coincide with Augusts Macross Original Pictures Exhibit. Sets will be priced at 1000yen each and will be limited (3000 sets made in total).