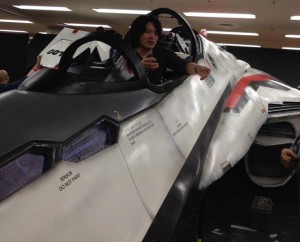 Much like in Tokyo, both the 1:1 VF-25 Valkyrie and Macross art exhibition will be held in Nagoya.
The VF-25 goes on display from tomorrow (June 1st) and artist extraordinaire  Hidetaka Tenjin is again overseeing the iconic valkyrie's construction and detailing.

The following images are from  Hidetaka Tenjin's twitter feed.
The Nagoya Parco exhibit started on May 25th and features a several new additions, most notably of the culinary variety. Specially themed 'Cafe Silver Moon' is offering character-themed Parfait for 990yen each, including a Fire Bomber one with sparklers and one for Ishtar. Yes, you read that right, ISHTAR!  Each comes with a unique coaster exclusive to the event.
OR, for a whopping 7018yen you can get the YACK DECULTURE Parfait! (all following pictures are by Tenjin Hidetaka)
The themed Chinese restaurant also features a giant peeping Klan Klan and the entrance to the Parco exhibition has a special piece of artwork by you-know-who 😉
Feeling hungry yet? Complain about it in the forums!