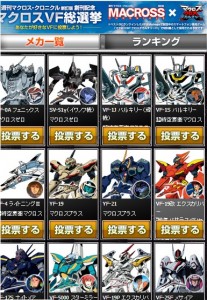 The official facebook account for the revised edition of Macross Chronicle is holding a poll to decide the most popular Valkyries in the Macross franchise.
There are 19 Valkyries to choose from, ranging from the VF-1S and VF-25, to more surprising inclusions such as the VF-2SS and VA-1SS. Choose wisely though, because you only get one vote.
The poll will run from January 16 to February 8. To participate, 'Like' the Macross Chronicles facebook account and click on the big gold button to start.