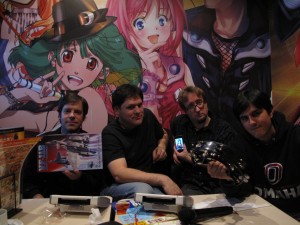 With the final (that we know of) 30th Anniversary events drawing to a close, we decided to try something special this episode by renting/recording in the special Firebomber-themed karaoke room at Ikebukuro Joysound.
As such, the sound is little different than usual, but hey, what better ambience for a Macross podcast than rooms full of people singing Firebomber and Frontier songs in the background while we discuss our impressions of The MUSICALTURE, the FB7 movie, Firebomber live in concert, the VF-4G, Macross 30, and the fateful day when Renato, Gubaba, Yoshiki Fukuyama and a bag full of Orgus VHS tapes collided….literally!
Also, this episode features another Macross Voxpop, as well as the debut of MW poster Antibiotictab!
WARNING – Part 1 includes spoilers for Evangelion Q (3.0). And yes, we forgot to tell the 'Lego story.'
EP.7 – PART 1  Episode 7 part 1
Don't miss an episode! Subscribe to us on iTunes!
[Edit by Renato:] Antibiotictab was kind enough to film, edit and upload a trailer for this episode onto Youtube!  Check it out below: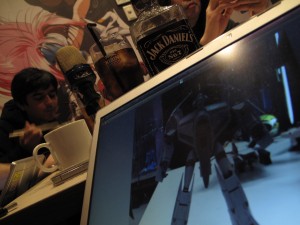 Questions, comments, suggestions & feedback are always welcome in the FORUMS.
Timestamps follow the jump!
Part 1
00:00:00-00:24:29   Opening & introduction to Antibiotictab
00:24:30-00:51:44    What we've been watching
00:51:45-01:41:21     SPOILERS>>><<<Evangelion Q impressions<<<>>> SPOILERS!!!