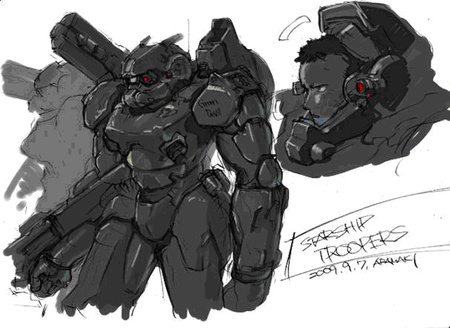 Macross model kit box artist Tenjin Hidetaka has been commissioned for the new Sony Pictures Productions of the Shinji Aramaki directed "Starship Troopers: Invasion". There's so much awesome in that one sentence that I'm just going to go ahead and quote Anime News Network.
The new film draws design cues from Paul Verhoeven's loose 1997 live-action film adaptation of Robert A. Heinlein's original novel. The blog had previously posted starship designs, as well as a rough illustration of a suit drawn by Shinji Aramaki (Appleseed). Aramaki is directing the new film, which is due out in summer 2012.

Flint Dille is writing the screenplay for the film after working as a story editor on The Transformers and G.I. Joe television series of the 1980s. The staff commissioned illustrator Hidetaka Tenjin (Macross Frontier, Macross Zero, Hellsing Ultimate) to create a teaser poster for the film. Joseph Chou (Appleseed films, Halo Legends, proposed live-actionEvangelion) is producing the new project. Edward Neumeier and Casper Van Dien of the live-action Starship Troopers film are executive producers.
Stay tune for the Tenjin poster as soon as we spot it.