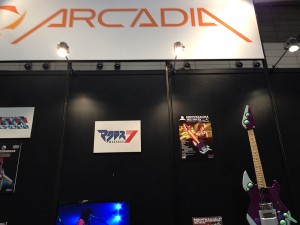 Here's something straight out of left field, Yamato Co. Ltd has changed to an entirely new company and will now be known as ARCADIA Co., Ltd.
Aside from the unannounced corporate change and new office relocation, things still appeared to be business as usual regarding their Wonder Festival 2013 booth. From here on their ball jointed doll, figure and Macross products will be distributed within Japan under the Arcadia banner. Products that are licensed and imported from outside Japan will continue to be sold under their former Yamato branding. The North American Yamato USA (f.k.a. Toycom, Inc.) office is said to be unaffected by despite their Tokyo headquarters changes.
Given this change, there was very little in the way of Macross-related content at their booth this show, with the few products that were on display being collaboration projects. Among these were:
-a Hasegawa VF-1 model kit with a special 30th Anniversary paint scheme designed by Hidetaka Tenjin
-the infamous Basara guitar – some new specs were listed next to it but still no price or release date yet.
-a ball-jointed Hikaru Ichijo doll (possibly 1:8) – while only preliminary designs were on display, the face/hair were looking promising.
-a VF-1 cockpit – presumably in 1:8 for the doll to sit in.
Unfortunately pictures were strictly prohibited and most of the above information is tentative at best, so watch this space for any future announcements!