MW member Vanpang has kindly provided us with an informative interview with Shinichiro Watanabe, director of ice-cool stylish shows such as Macross Plus, Cowboy Bebop, Samurai Champloo and Kids on the Slope.
Interview with Shinichiro Watanabe on 10 November 2012 during Anime Festival Asia("AFA") 2012
Shinichiro Watanabe was a guest speaker during AFA 2012 and James Wong and I were given the opportunity to conduct an interview with the legendry director. Shinichiro was the co-director with Shoji Kawamori of Macross Plus and the director for Samurai Champloo and Cowboy Bebop.
The interview was held at Singapore Expo Hall on 10 November 2012 with other people representing other media from Hexishe, Anime Shrine, SG Café and Campus.com. Thus, questions below are a compilation of questions asked by the group collectively.
All his answers were conveyed to the Media in English through a translator and as such some content maybe lost in translation.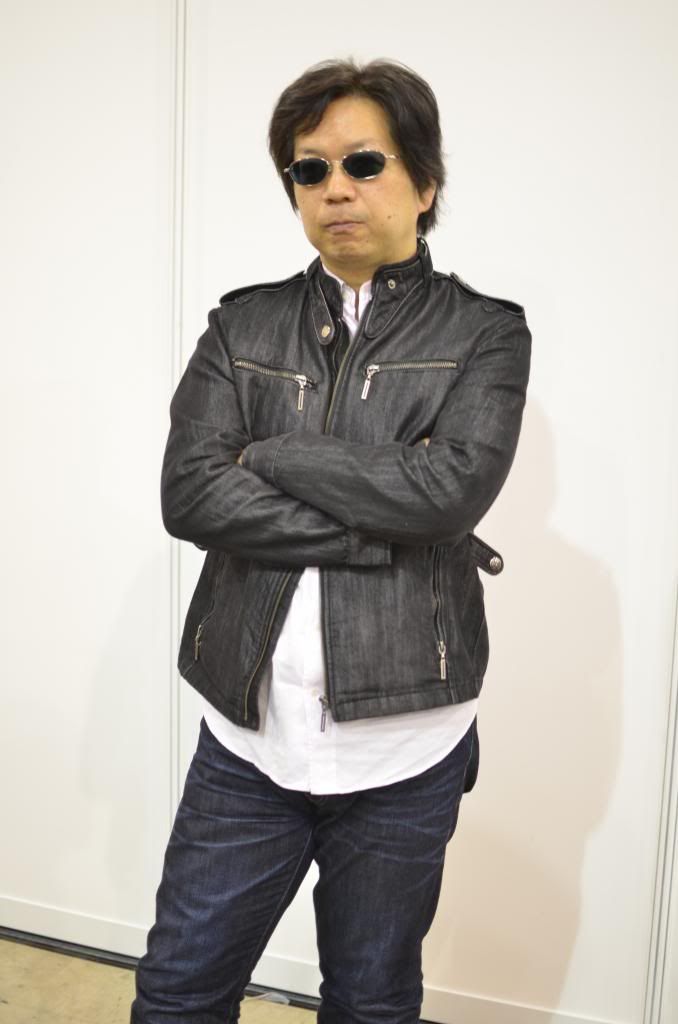 Question : Watanabe-San, your work has many different genres, like "Cowboy Bebop" has space with cowboys / bounty hunters and "Samurai Champloo" has hip hop mixed with Samurais. How do you combine all these different genres and unrelated elements together so seamlessly that it feels natural ?
Watanabe : That's a very difficult question! (Laughs) I always get inspired on the spot, at any given moment. I constantly think how it will be interesting, exciting or unique if we can combine and mixing genre A and genre B. I would like to mix different things in my work: the word "Champloo" in 'Samurai Champloo' comes from an Okinawan term 'chanpuru' which means "something mixed". Cooking is essentially mixing of different ingredients and that would be a mixture, right? So in Samurai Champloo, I combined two completely different elements, a traditional samurai story and trendy hip-hop music with the hope that it would be an exciting and interesting story.
Question : There was news a while back that there will be a live action Cowboy Bebop movie, could you advise us on the status of the live-action movie ?
Watanabe : The Limited Edition Blu-Ray set of Cowboy Bebop TV series will be released in Japan in December 2012. Amongst the extras in the limited edition set, there is a segment where I directed a 5 minutes filming of the live-action movie.
Question : In your latest new anime "Kids on the Slope", a lot of famous and popular jazz music was used in the soundtracks. Did it costs a lot to get the license of these music to be used in the anime ?
Watanabe : The music used in "Kids on the Slope" were "cover versions" and not the original versions. Japanese musicians were used to recreate all jazz music for the recording of soundtrack in the anime. Therefore the licensing was not as expensive as using the original scores of the music. The biggest challenge is the synchronizing of the music in the anime.
Question : Who chooses the soundtracks to be used ?
Watanabe : The anime was actually adapted from a manga of the same name and therefore the jazz pieces which was in the manga were used in the anime. Where sections where the music was not in the manga, I would select the soundtrack for the anime.
Question : You have worked together with Shoji Kawamori on "Macross Plus". How do you find working with him ? Was he a very difficult person to work with ?
Watanabe : Shoji Kawamori is a very strange person (laughs !) He is a bit crazy but very fun !
Question : When you mention that Shoji Kawamori is a very funny man, how so ?
Watanabe : (Laughs) He is always using the lego sets to figure how to transform the mechas. And whenever I try to consult him about the Macross Plus project, he would be busy with his lego sets.
Question : You also worked with the famous musician Yoko Kano, what is your opinion of her ?
Watanabe : I think Yoko Kano is a genius !, I will try to work with her as much as possible in my projects. In Samurai Champloo, hip hop music used and this type of music was not suitable for Yoko Kano therefore I did not ask her to join me in that project. However for the jazz music in "Kids on the Slope", I knew straight away I had to get Yoko Kano onboard. I would try to get Yoko Kano in projects where the music is suitable for her talents.
Question : How does it feel to be able to direct Macross Plus which is one of the great work in the Macross franchise which is well loved and known by the Macross fans? What difficulty did you experienced when you directed this film? What is the most memorable film you did and why ?
Watanabe : When the first Macross TV series was aired in television, I was a teenager. I did not think at that time I will have the opportunity to direct a Macross film in the future. But when I was offered to co-direct Macross Plus, I felt honored and extremely happy for the opportunity to be in an anime project which is one of my childhood favorite.
Whenever I direct a film, I always keep this in mind, never put too much explanation in the story, if I put in too much details in the story, there won't be much room for the viewers' imagination. And a good story must have good balance, if the story is too complicated, the viewers would have difficulty following the story. That is why I am always taking care of the balance.
Question : Then how do you simplify the story ?
Watanabe : As I am the director of the film, I would know the background of the story and every aspect of it. In order to strike the right balance so as to not make the story too complicated. I would create the "other me" which is ignorant of the background of the story and would see whether the story would be easy for the "other me" to follow. The "other me" would be like an audience watching the film the first time.
In respect of the Macross Plus project, as Shoji Kawamori was from the original Macross TV production team and he knows everything about Macross, I always check with Shoji on any questions that crop up in the project.
Question : Was there any differences in direction between the two directors ?
Watanabe : That is a very good question (laughs). Sometimes such things do happen, we have different opinions and directions. But as Shoji Kawamori is the from the original production team, I respected him and would follow his opinions.
Question : Which is the most memorable film that you directed and why ?
Watanabe : Cowboy Bebop…it is the first film that I have a free hand to do what I wanted.
Question : What kind of inspirations that you put in Cowboy Bebop that makes you feel that it would be a much better film ?
Watanabe : Everything…like the character, the feelings and the atmosphere. In Cowboy Bebop, I can put in my point of view and see how the world according to myself. This is the first film that I was able to convey my point of view freely and I can see the whole picture according to my vision.
Question : Last month Production I.G. used their kick starter to fund their anime. Kick Starter is a project where Studio IG has asked members of the community for funds to fund their anime. In your opinion would this be the choice of studios to fund their anime?
Watanabe : If I could get a bigger funding with kick starter, I would definitely consider using it. However I must first discuss with the producers first.
That concludes our interview with Shinichiro Watanabe. And with that we thanked Watanabe, wishing the director the best of luck in his future projects. Please look forward to his work in the coming year!
Special Thanks goes to Lim Wee Ling, Stephanie Seah, Michelle Tong of Asia PR Werkz Pte Ltd and Shawn Chin of Anime Festival Asia for arranging and assistance for the interview.
Comments or questions?  Post them HERE!