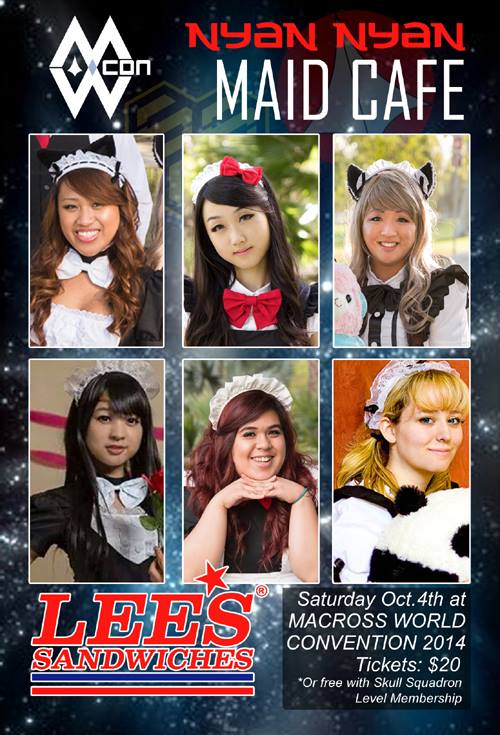 MacrossWorld Convention announces our first maid cafe!
Reserve your ticket today to experience our Nyan Nyan Maid Cafe at MW Con 2014!
Each ticket will reserve a seat during one of 5 sessions throughout the convention:
Session 1: 12:00 PM (20 seats)
Session 2: 2:00 PM (20 seats)
Session 3: 4:00 PM (20 seats)
Session 4: 5:00 PM (20 seats)
Session 5: 6:00 PM (20 seats)
Purchase tickets: http://mwcon.ticketleap.com/mwcon2014/
Please note, a VIP is ticket included with Skull Level Registration level!
Our Nyan Nyan Maid Cafe will be catered by Lee's Sandwiches. Food is included with each ticket
purchase with the following menu options:
(1) Beverage Choice – Iced Coffee, Thai Tea, Milk Tea or Soda AND
(2) Choice of Pork, Chicken or BBQ pork Steamed Bun AND
(3) Choice of Grilled Pork, BBQ Pork, Grilled Chicken or Cold Cut Combo Banh Mi Sandwich
Maids will provide entertainment to guests through interactive games and activities throughout the
session. Photo opportunity available with maids and includes a FREE 4″x6″ photo souvenir!
Guests must bring their ticket with them and check-in at the Maid Cafe to sign up for a session time.
Limited seats available!