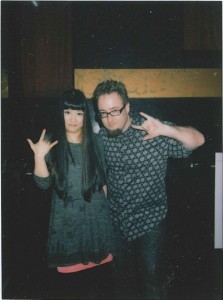 February 2nd, 2013 was a date that will be remembered for many things. For one, it was the birthday of Mylene Jenius (-18!). Of course, this meant that Chie Kajiura held another one of her 'Mylene Night' concerts to commemorate Mylene's birthday. Most importantly though, February 2nd 2013 was the day that Chie irrefutably claimed the title of Macross cover queen, something that most people had previously attributed to Megumi Nakajima.
How? Two words. Macross Plus.
Back when Chie first started her annual Mylene Night concerts in 2011, she said that she wanted to make each year different. To give each gig a different spin. Mylene Night #01 featured 'W' (Double) Mylenes in the form of both Chie and Tomo Sakurai on stage. The musical style was generally poppy – from the more subdued pop of Chie's Mylene solos, to the more gaudy/idol pop of Sakurai covering 80's Minmay songs. Mylene Night #02 featured Yoshiki 'Basara' Fukuyama as a special guest. In general, music leaned towards more rock-infused interpretations of Macross 7 songs. Chie also started playing with rearranging and covering songs from other Macross series, such as 'Do You Remember Love?' and 'Diamond Crevasse', both of which were amazing.
So, what new approach could she possibly take for Mylene Night #03?
The answer was simple. Since the previous Mylene Night had taken place before the Macross 30th Anniversary hype train had really kicked things into high gear, Chie decided to make Mylene Night #03 her own personal tribute to 30 years of Macross. No special guests (well, one actually, but I'll get to that in a minute), no interview videos, no distractions, just 2 hrs worth of Macross covers done in her own unique style.
Tickets to Mylene Night #03 were even more difficult to get than in the past, if you can believe it. As usual, the concert was to take place in a relatively small venue – Shibuya's Club Asia, which could hold approx. 300 ppl (not including the special guests section up on the 2nd floor). Now, granted, this was slightly larger than the average 250ppl that previous venues had been able to hold, but the problem was that unlike past Mylene Nights, this one received a small amount of tv publicity beforehand thanks Animax's Macross special.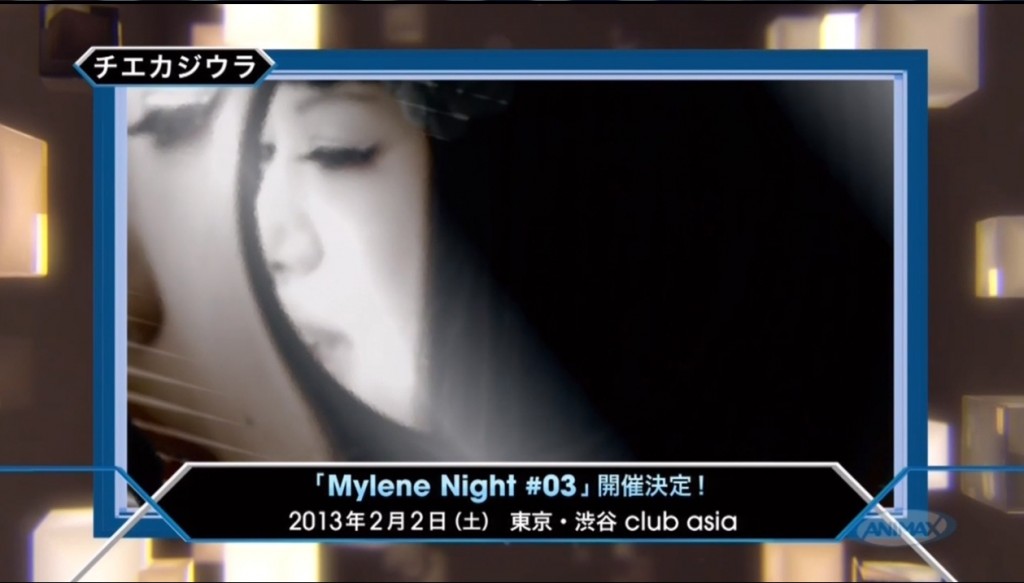 As a result, by the time the Firebomber 2012 Concert rolled around in November tickets for Mylene Night the following February had already sold out well in advance. Chie actually half-jokingly apologized to the fans at the Firebomber gig – 'For anyone who is interested, I have a Mylene concert coming up next year but…if you don't already have a ticket you are SOL because they are already sold out. Sorry guys!'
Being Macross' 30th anniversary and all, Chie decided to offer two types of tickets: Regular tickets would be 5500yen, with a 500yen drink surcharge at the door, pretty much the same as usual. However, 16 'Special Tickets would also be available for 12000yen each. These tickets were hand-made, complete with a thank-you note from Chie, and allowed the lucky holder to watch part of the pre-concert rehearsal, have their picture taken with Chie, and be in the front row of the main concert itself. If more than 16 people applied for these tickets then a draw would be held to decide who would get to purchase them. As I had expected, Special ticket sales ended up being selected by a draw – and both your's truly and Save were among the lucky winners.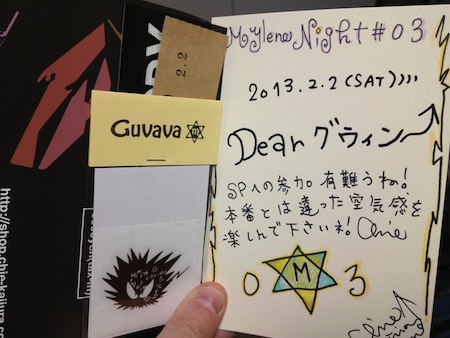 We turned up at Club Asia at around 14:30 on Saturday, February 2nd, not quite knowing what to expect. The 14 other 'Special Ticket' holders were mostly there as well – the actual concert didn't start until 18:00 and, since people were let in according to ticket number, there was no need for anyone to be lined up early. With 30 minutes to kill, we milled around the staff entrance of the club, chatting with some of the other ticket holders, quite a few of which were fellow Macross fans that we already knew. One girl had made some custom Firebomber stockings for the event (how she intended to show these off in a capacity, standing-only concert venue was not something she had apparently considered), as well as custom Mylene Night nails. Another had prepared a hand-made birthday card, complete with a felt cut-out Gubaba on it. Several others had prepared gifts for Chie as well, since it wasn't everyday that they had the chance to hand them to her in person.
15:00 rolled around and the 16 of us were ushered through the staff entrance. We were reminded that there was to be strictly no photos or recording and were asked to refrain from tweeting about the setlist before being let into the concert hall where Chie was rehearsing. She played about 3 full-songs as well as -while tuning, making checks, etc – a few verses from assorted other songs. From my position I could clearly make out the setlists that were taped to the stage, so I had a fair idea what to expect at the concert proper, later that night. After 45 mins or so, Chie took a break to take photos and talk briefly with each of us. Photo's were taken with a Polaroid camera (talk about old school!) and some came out better than others (check out the next episode of Macross SpeakerPODcast later this week for all the details and drama!). With the rehearsal segment over, most people headed to local coffee shops or family restaurants to kill some time before heading back to Club Asia and heading into the concert.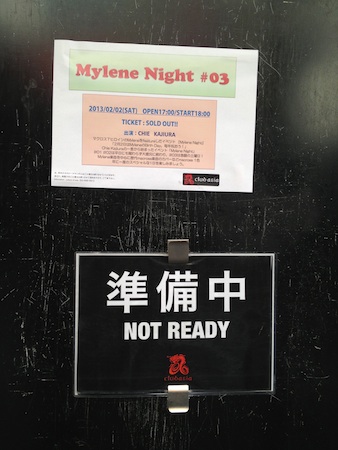 I found myself in the very front row again for the concert, although more off to the right compared to my spot during rehearsal. Unfortunately this meant that I was right in front of the amp for the electric guitarist, meaning that Chie's voice was a little difficult to hear in the handful of songs which featured a lot of guitar work. Overall though, it was worth it just to be in the very front row. Again, I was able to see the setlist fairly clearly, however there was one thing that wasn't included on it – the warm-up act.
If there's one thing I was NOT expecting to hear at Mylene Night #03, if EVER, it was Macross Plus….dubstep.
The warm-up act was by DJ CMJK perhaps better known for his band 'Clockwork Yellow' and work as a sound producer for big Japanese acts such as Ayumi Hamasaki and SMAP) who came out on stage a did a 15 minute dubstep remix of 'Information High' from Macross Plus. The whole dubstep boom of the last couple of years never really caught in Japan, so it took the crowd a few minutes to get over their surprise and down with the music. And the music was LOUD. the type of loud that makes your clothes vibrate and ears bleed. But in a good way.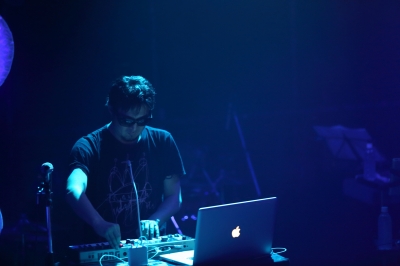 With a parting shot of 'don't forget to buy the upcoming Macross Plus Bluray Box!', CMJK then handed the stage over to Chie and her regular band members and Mylene Night #03 got underway proper. But Information High was not to be the last Macross Plus song we would hear that night.
Chie kicked off the gig with three Macross 7-related songs, but not ones I would have expected her to start with – Plastics, Sweet Fantasy and Koi no Mahou.
Ever since the release of the 'RE:Fire!' album in 2009, Plastics has become somewhat of a favourite of Chie's and she has sung it at the majority of concerts she has held since. This rendition started off with a slow, atmospheric lead-in before exploding into its usual poppy vibe but featuring more guitar work, getting the gig off to a good start and pumping the crowd up (despite the fact that Chie missed a line at one point). Sweet Fantasy featured a funky drum and electric guitar opening, while Koi no Mahou was mostly the same as the album version but with more electric guitar. A good, up-beat set of songs to open with although I must admit to being somewhat surprised that Chie hadn't chosen any of her more recognizable Macross 7 songs to kick things off.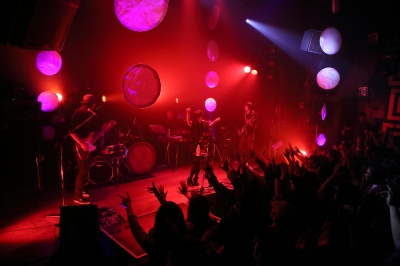 After this initial set, it was time for some Macross covers – it would be a whole eight songs before Macross 7 reared its head again.
Chie had performed 'Friends ~ Jikuu wo Koete' previously – once at the first Mylene Night with Tomo Sakurai, and again as an acoustic version for fans waiting in line to buy merchandise at one of her 'Laboratory' concerts. This was the first time I'd heard her perform it solo with her regular band though, and the resulting sound was really nice. Not needing to worry about a second singer meant that Chie had free rein to hit those distinctive high, drawn-out notes that she does so well.
This was followed by 'Do You Remember Love' – another song that she initially covered at the first Mylene Night but had gradually refined her take on over the intervening two years. The song opened with a solo piano, much like how Mari Iijima does it but a little longer, before gradually escalating into what can only be described as a rock ballad. The chorus – with Chie's voice intermingling with the electric guitar – was amazing and something which really deserves an official/commercial release someday. In my opinion it's second only to Mari Iijimas original (yes, I'm calling it here and now – Chie's rendition beats out Megumis one hands down!) although unfortunately she did miss a line at the beginning this time. The crowd was more than happy to fill in for her however!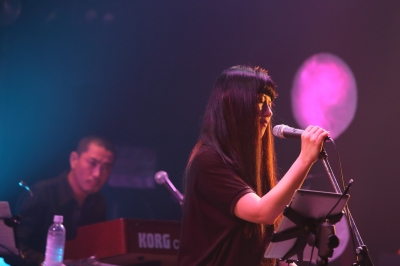 Then it was time for something a little different. The bassist and guitarist pulled up a couple of stools next to Chie and swapped out their instruments for… an ipad and a couple of iphones. The iphones were running Garageband, while the ipad was using KORG's iKaossilator. Donning 1980's-style striped sunglasses (all three of them), the trio then used these to play My Boyfriend's a Pilot and Ninjin Loves You Yeah! These were both utterly hilarious – both because of the way they were played (trying to play on an iphone means that a lot of notes tend to get missed – something that became a running gag) and because they were so…well…different to Chie's usual style. Surprisingly, she pulled off a pretty good, slightly more mature (despite the 'instrumentation') version of My Boyfriend's a Pilot. And the crowd's reaction to Ninjin was priceless. Kocchi (the bassist) had bought a new iphone 5 that very morning just for the gig – claiming that he was actually an Android kinda guy but that Chie had pressured him into it. Chie feigned ignorance, of course.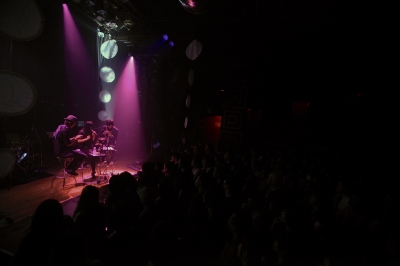 After this, Chie did a pair of Macross Plus songs back to back – Idol Talk and Borderline. This was the first time that she had ever experimented with Macross Plus material and the results were no less than spectacular, especially Borderline, which was arranged with a bit more of a jazz bend to it and seemed practically tailor-made for Chie's slow, sultry vocals.
This brought us to the final two covers before heading back into more familiar territory – this time two Macross Frontier songs: Aimo and Diamond Crevasse. This was Chie's first time doing a full version of Aimo, although she had teased fans with a single verse of it at the Firebomber 2012 concert last November, and it turned out to be really good rendition. It was definitely less arranged compared to the other songs that Chie covered – it was just her and a pianist for 95% of the song, with a few guitar chords snuck in towards the end, meaning that it felt fairly faithful to the original, just a little deeper and a bit more…ethereal. Diamond Crevasse was something that, like Do You Remember Love, Chie had first covered at Mylene Night #01. This version was mostly unchanged, which is to say that it was still terrific. Again, I'd personally put Chie's take on the song in the top 3 versions I've heard – there have been a lot of covers and arrangements of it over the past 5 years, although I still rate Mayn's acapella live version from her LOVE & JOY tour as the best – she didn't even use a mic for half for the song!).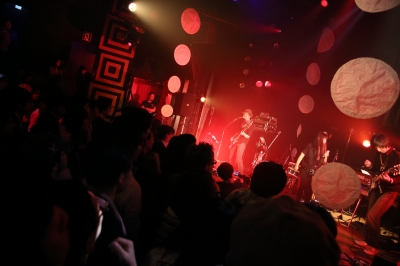 We were now firmly back in Macross 7 territory for the final set of the concert: Pillow Dream, GO, Burning Fire, and My Friends. Pillow Dream had a bit of extra guitar added to it and GO, as always, was just pure energy
Burning Fire was a bit of a disappointment. When I spied it on the setlist during rehearsal I had hoped that we would get an arranged Chie version of the song. Instead, what we got was Nao-chan on lead vocal duties with Chie on backing during the chorus as usual and…well, as good of as a bassist as Nao-chan may be, let's just say that he's no Fukuyama. Still, the crowd sang along the entire song so it was a fun group effort. Everyone then turned the volume up to 11 for a final, rockin' version of My Friends, which didn't skimp on the guitar solo towards the end, after which Chie thanked everyone for coming.
But it wouldn't be a Japanese concert without the mandatory encore and, after a few minutes of waiting backstage while the crowd chanted, Chie came back out on stage to give us another song – just one but one that, in my mind, ended up defining the entire gig – Voices. No instruments, no backing, just Chie, a mic, and Macross Plus' most memorable song. And she utterly nailed it. I thought I had heard the best non Akino Arai version of Voices back when Megumi Nakajima covered it at Yoko Kanno's Tanabata Sonic in 2009 but Chie's version, while still faithful to the original, topped Megumi's in my opinion. Sorry Megumi, but Chie has taken the crown. She is now THE Macross cover queen as far as I am concerned.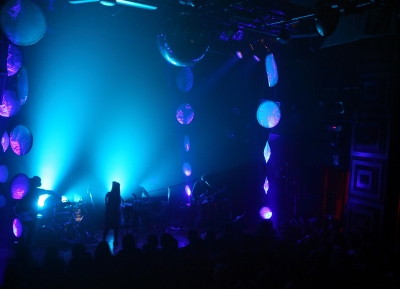 And with that, Chie thanked the crowd again and left the stage … to head to the merchandise table where fans thanked her as they filed out.
Mylene Night #03 covered some of the usual Macross 7 staples (although I admit, I was surprised by the omission of Dakedo Baby), refined some covers that had been performed previously, and added several completely new covers to Chie's repertoire. Apart from the Fukuyama-less Burning Fire, there wasn't a single song performed that didn't meet if not surpass previous versions. If anything could be said to have defined the performance it was Macross Plus since it both started and ended the gig, albeit with songs that were diametrically opposed as far as tone and style were concerned.
I say this every year, but I can't fathom how Chie could possibly top this at the next Mylene Night. Different special guests? More Macross Frontier covers perhaps? Or, dare I say it, some Macross 2? Hmmm, the thought of a Chie cover of Mou Ichido Love You does sound enticing. Either way, we won't know what further magic Chie has up her sleeve until Mylene Night #04 – and so, the wait for Mylene's -17th birthday begins. Only a year to go …